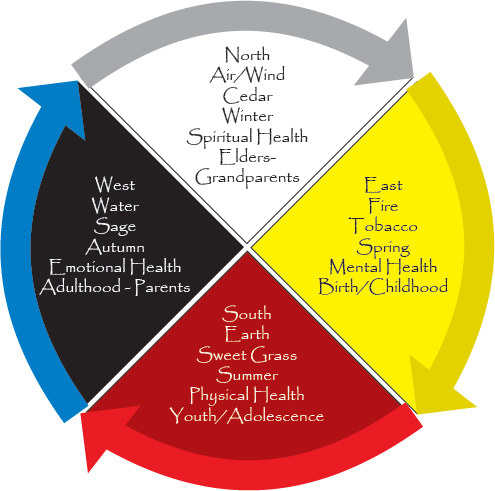 Medicine Wheel
Our Native American heritage has taught us to explore our roots and appreciate the gifts that cannot be bought, the gifts Mother Earth has given us. The Medicine Wheel, sometimes known as the Sacred Hoop, has been used by generations of Native American tribes for health and healing. It embodies the Four Directions, as well as Father Sky and Mother Earth—all of which symbolize dimensions of health and the cycles of life. The Medicine Wheel, teachings of Misty Cook, Native American Medicine Woman of the Stockbridge-Munsee Band of Mohican Indian Tribe and Author of "Medicine Generations", and the wise lessons of Larry Madden, an Elder of the Mohican Nation have guided us through our learning and creation of our Four Directions Aroma Therapy used throughout our service offerings. Our oils and teas are carefully infused with medicinal herbs indigenous to Wisconsin.  We have grown, gathered, dried and infused our products to ensure they are of the highest quality and for the greatest good.
Each of the Four Directions is represented by a medicinal plant that can be found in nature possessing specific healing qualities.
North, represented in white and by Cedar, unwinds a path of strength and acceptance of who we are. Symbolic of Air/Wind, Winter, Spiritual Health, Elders and Grandparents.
East, represented in yellow and by Lavender, takes you on a journey to seek your truth, your own story. A calming guide helps to awaken the possibilities that life has to offer. Symbolic of Fire, Sacred Tobacco, Spring, Mental Health, Earth and Childhood.
South, represented in red and by Sweetgrass, will enhance your focus allowing you to gain knowledge and understanding of yourself and the world around you. Symbolic of Earth, Summer, Physical Health, Youth and Adolescence.
West, represented in black and by Sage, brings the rain that cleanses and nurtures life, as well as the opportunity to experience and the ability to release emotions. Symbolic of Water, Autumn, Emotional Health and Adulthood/Parents.